I am not here today and that is a great thing.
Shortly after I posted that I have in fact Survived PPD I was appoarched by Serana at Bewildered Bug to write about my experiences. I jumped at the chance because I firmly believe that knowledge is power.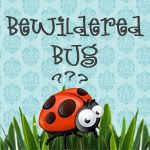 The more people that know my story and understand that they are not alone, the better off we all are.
So won't you please join me over at Bewildered Bug for Mental Health Monday.
Jenn